Modular future
A house is a dream for many of us. If you have visited dozens of websites, design offices and you have not make a decision which will influence your life for many years yet it means you are in the right place and in the right time to get to know information about a modern solution for building modular houses. Building a house usually involves objections to price and an engagement. A question if we have enough money and time to take care of everything. Our requirements concern also the quality of materials used and also competence of performance.
Modular houses are one of the best and the most modern solutions which meet expectations of many investors. Modular houses allow fast design of an object using modules. Each construction made in Modular System is the reflection of client's expectations and in the result not only a functional and comfortable but also an exceptional in quality an all-year-round house is designed.
The advantage of this system is that building modular houses from prefabricated elements does not involve an oppressive building site and does not influence negatively the environment.
Objects built that way work perfectly not only as residential buildings but also they can be your portable office, a shop or a gastronomic point. As they say: Only sky is the limit.
A single-family buildings in modular system offered by us are a perfect solution for both young people appreciating original and fast solution and elderly people for whom comfort and tradition are the most important.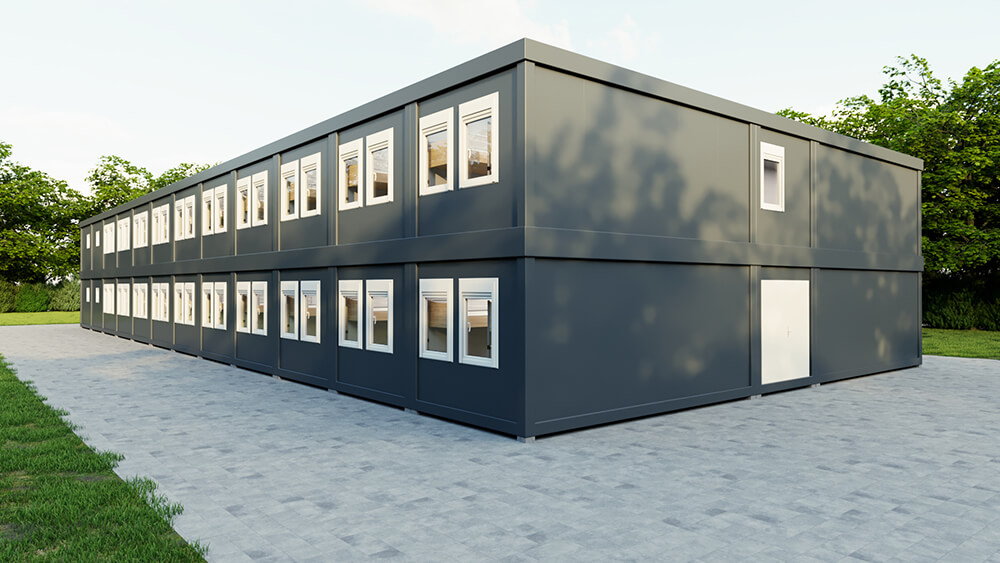 Modern technology of modular building gives a possibility to create an infrastructure connected with schools and day care centers. It allows to arrange not only new objects but also extend already existing ones to extend usable area and adopting it to current needs. The objects created by us meet high standards in accordance with National Sanitary Inspection (Państwowa Inspekcja Sanitarna) and fire-fighting regulations. Both functionality of modular buildings and fitting them into the area are major goals for us. We know how important for the youngest ones are comfort and safety.
Buildings of collective living in modular technology give a possibility to create an object with several dozen of flats. A several storey building can be built thanks to solid, frame and steel construction. Even housing estates can be built thanks to our technology and tested solutions. This offer is dedicated to municipal government units, housing association and developers looking for cheaper building solutions. Comfort and durability of our solutions are no differ from typical building techniques.
There are modular hotels which are the connection of several modules and office containers among our foregoing realizations.
Our modern architectural projects meet expectations of the most demanding entrepreneurs and variety of possibilities of equipment makes modular office a comfortable and modern place of work. In case of any change of company situation: development, intensification of employment policy we provide fast and economical extension of office space- without limiting the current function of the company and using already existing buildings.
We have tested methods to create our realizations aesthetic, comfortable, very good quality and adjusted to investors' financial expectations.