Simple and practical solutions are the key to success. If you are looking for residential objects which are characterized by high quality, easy transportation and flexibility in creating bigger or smaller sets – Modular System company offers a perfect solution for you.
We offer residential containers in variety range enabling to adjust them to current needs without any problems and as time goes by modify them. Residential containers are equipped with windows, sanitary unit (wash-basins, showers, toilets), heating and light systems, ventilation and also additional appliances such as electric cookers and water- heaters.
Wide range of modification availability gives you a readymade product as a room, a flat or a house which meets your requirements.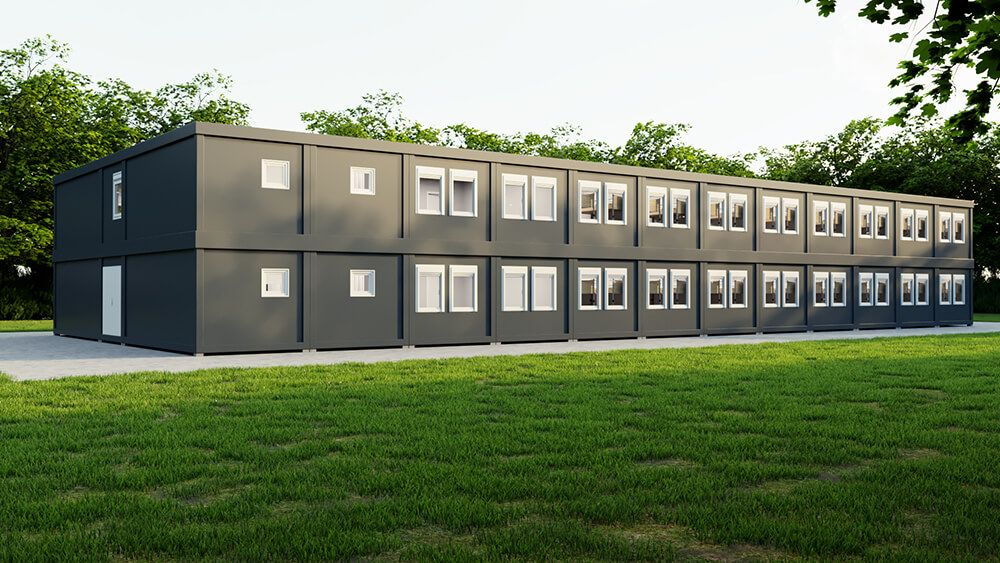 Residential containers are used not only as freestanding rooms but also as social flats. Connected in bigger sets they give a possibility to organize an object for a collective living. They are perfect during big investments when we have to provide employees and staff a place to live or during natural disasters when in short time lodgings are needed for casualties. It is important to emphasize that one of our container biggest advantage is their ease in transportation and connecting in bigger objects. It allows to create a lodging in case of necessity in a couple of hours.
A simple module is absolutely enough for one or two people. There is a possibility to connect modules in complicated ground-floored or storied constructions with modification of walls system. In the result we create sets for many people which spatial system allows to use an object freely. For example connecting two or three containers and removing a few division walls we receive a decent house with a kitchenette, a bathroom and a comfortable bedroom part.
Residential containers can be also used as an office facility for companies, day care centers or schools. The big advantage is that these containers are made from sheet metal outside, isolated and boards are used inside. Floor is covered with abrasion resistance and very durable carpets. Technology used in Modular System guarantees you a high quality and corrosion resistant product giving a shelter no matter the weather conditions.
Contact our expert and order a residential object adjusted to your needs!